IEDSS- Inclusive education for the disabled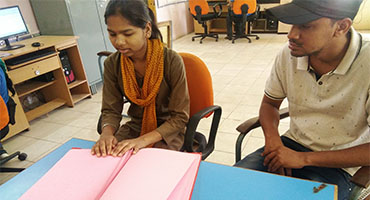 IEDSS (Inclusive Education for Disabled Children at Secondary Stage)
We are running this program with the help of the government of India and the IEDSS cell based at GCERT Gandhinagar. Here we cover disabled children with different categories from Std 9th - 12th. These children study in the normal schools of their own villages. Our special teachers who are trained in that particular category teach these children and provide all the special training needed as per the disability of the student. They also help them to get all kinds of Government and Non-Government benefits. In this program, our special teachers cover the following children with disabilities.
Category
Number of Children

Number of Specialized

Teachers (Permanent)

Visually impaired
183
15
Hearing impaired
160
20
Intellectual disabled
578
65
Locomotor disabled
173
--
Total
1094
100
The above numbers of students are registered with us and we provide all government benefits to them. Under this program these students are being provided educational kits and one pair of school uniform Additional tools is also provided depending on the needs of the children like: Tricycle, Crutches, Hearing aid, Tape Recorders, Wheel chair.
Human Resource Development
The Institute has always tried to give teaching and training to persons who can train the disabled ones. Under such plans the Institute has Human Power Development Programme
| Name of Training Course | No. Of Trainees | No of persons trained till date | Course Duration |
| --- | --- | --- | --- |
| Diploma in Education Special Education-Mental Retardation (D.Ed.S.E –M.R.) | 0 | 196 | 2 years |
| B.Ed Special education Mental Retardation and Visual Impairment through distance mode | 8 | 291 | 2 years |
| Industrial training center (computer operator course for the disabled) | 8 | 144 | 1 year |
| Foundation course in Care Giving | 0 | 46 | 6 months |
| CCC and CCC+ training and exams for the disabled. | 0 | 159 | 13 days |
The Trust also organizes Refresher Courses - C.R.E ( Continuing Rehabilitation education program) for the special teachers who have been registered in the special education areas conducted by the Rehabilitation Council of India. New Delhi.