J & A Gunderwala training college ( Diploma i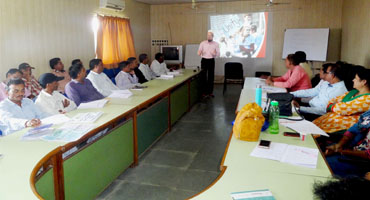 Human Resource Development
The Institute has always tried to give teaching and training to persons who can train the disabled ones. Under such plans, the Institute has started the work of Man Power Development.
Name of Training Course
No. Of Trainees
No of persons trained till date
Course Duration

Diploma in Education Special Education-Mental Retardation

(D.Ed.S.E , M.R.)

20
160
2 Years
B.Ed Special education Mental Retardation and Visual Impairment through distance mode
26
80
2 Years
Industrial training center (computer operator course for the disabled)
20
46
1 Year
Foundation course in Care Giving
-
46
6 Months
CCC and CCC+ training and exams for the disabled.
11
63
13 days
Moreover, the trust also handles the work for training teachers of normal schools. They join in the Foundation course for the persons with disability. It is a 90 days course recognized by Rehabilitation Council of India, New Delhi. The Trust also organizes Refresher Courses - C.R.E program for the special teachers who have been registered in the disabled areas by the R.C.I. New Delhi.