Jyotsana's Journey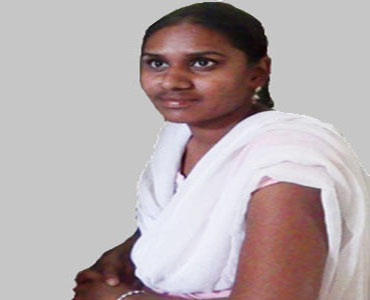 The lives of Children with special needs are undergoing remarkable changes with the efforts of Blind welfare council.
Jyotsana's Journey towards Independent living
You are aware that, at BWC Dahod one of our programs is imparting primary education to the children with special needs. At the same time as per their ability we are also imparting vocational training to such children and adults so that they can live a social and economical independent life.
Let us know about the journey of Jyotsana – From dependent living childhood to independent living adulthood.
Jyotsana Nisarta is from an Adivasi – farmer family living in backward village- Kadvaal of Jhalod taluka; District Dahod
At the age of just 2 years she was infected by Polio. The mother also being disabled herself could understand this critical situation. She tried her level best to reduce the disability. She did almost everything in medicine. However, she could not prevent her from a disability of about 40 %.
Jyotsana was good in studies and she used to stand first in her class during her school days. In Std 10th she secured 63 % and in Std 12th she secured 73 %. She joined PTC ( primary teachers training course) and was successful with 80 % marks. But by just 1% she could not be selected for the post of a teacher as our system is purely merit based. She was disappointed but was positive. She tried for some other profession. She had a good network and could get connected with one of our teachers and she came to know about the Computer training course conducted by Blind welfare council. This course is specially for the persons with disabilities and is approved by GCVT ( Gujarat council of Vocational training). She joined this course and started learning to operate computer and within one year she could complete the course of Computer operator. Immediately she got a job in Shivam computers Limdi as a computer teacher. Her first earning was Rs 2500/- per month. She was very happy. She did this job for one year and then she was lucky to get a Government job in the Project called "Chief Minister's Amrutam Maa Yojana" as a Taluka Kiosk. Her payment went up to Rs 4500/- per month. The beneficiaries covered under this project were people from BPL ( Below poverty line ) as well as APL ( Above poverty Line ). In this project She used to take a web photo of the beneficiary, take a thumb impression, and enter all the needed data in the computer. Finally she used to get a print out of Identity card and hand it to the beneficiary. The total procedure in this project is done successfully by Jyotsana independently. She is in this job from last 2years and 7 months. From her earning she is not only able to bear her own living expenses but she is also helping her family. The family members are very happy. The society members respect Jyotsana as she is a Government employee now rather an earning member of the family and the society. It's also a matter of pride for Blind welfare council Dahod.
Students with disabilities who are 12th pass can join the computer operator training course at Blind welfare council- Dahod. This course is approved and certificate is provided by ITC ( Industrial training Center) under GCVT - Gujarat council of vocational training.