Success story of Abu Dhabi world summer games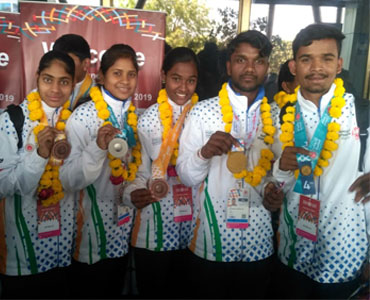 The athletes with intellectual disabilities are attaining great heights at Blind welfare council Dahod.
We are very glad to inform you that this year five athletes with intellectual disabilities from Blind welfare council were able to qualify for the Special Olympics World summer games at ABU DHABI (UAE). 8 – 21 March 2018.
The following are these athletes:
1. Rajesh Arjun Pagi; DOB : 01/02/1997
Address : Village Bhotva Ta; Sehra, Dist Panchmahal – Gold medal in Handball
2. Manisha Bhikabhai Chauhan; DOB: 29/9/1997
Address : Palli: railway station faliyu, Ta: Limkheda, Dist Dahod – Silver Medal in Basketball
3. Pushpa Ganpat Bariya; DOB 24/12/2000
Address : Degavada, Ta; Limkheda, Dist Dahod -Bronze Medal in Volleyball
4. Somiben Lalabhai Damor; DOB 18/4/1999
Address : Nana Meerapura, Ta: Kadana, Dist Mahisagar won Bronze medal in Volleyball.
5. Vijay Rajubhai Bhuriya; DOB : 01/02/1999
Address : Bilvani, Ta: Jhalod, Dist Dahod stood at 4th position in Football
All these athletes are from poor families living in villages. They are very weak in their studies. Special attention is given for their studies by our special teachers. All care for their academic and non academic activities are done by our special teachers. They are covered under the inclusive education program. They study in the normal schools.
This success of five athletes participating in the world summer games is because of the round the year training to these athletes. The athletes have worked very hard to show this kind of performance. Our special teachers, coaches and managers have also put great efforts for the training and management of tournaments which has shown this result. The parents of these athletes have cooperated at all levels and they had full faith in our team.
Training and development of children with intellectual disabilities is one of the prime mottos of BWC. Starting from activities of daily living, pre primary academics, primary academics, to vocational training we groom the student in such a way that the lives get changed. In case of extracurricular activities also our special teachers work very hard to bring out the best performance of our children with special needs. In case of sports we have divided all teachers as per their expertise in different games. Round the year; they train the athletes and make them participate in district games, state tournaments, National tournaments and they are made eligible to participate in world games. The above five athletes are the best example.
Up till now 10 athletes with intellectual disabilities have already participated in the International games. Two in Australia : Special Olympics Asia Pacific -2013 , Three in USA Special Olympics World summer games – 2015 and now in March 2018 five athletes participated in world summer games in Abu Dhabi and won medals.
It has been a great moment for the parents, teachers and all staff members of BWC
Total Comments : 1
Is great and Onarable moment for our india.... Great achivment.... Specialy congrats to and thaks to teacher who teach them
Leave Comment